Theta Healing, founded in 1995 by Vianna Stibal, is a meditation and spiritual philosophy technique that is not specific to one religion but identifies all of them with a single aim of becoming closer to God, Universe, or Creator. Theta Healing technique claims that there are seven planes of existence that are so vast that understanding them requires the human mind to be in an abstract state. After attaining the Theta State of mind, a person can perceive these forces in all their majesty through Creator and transform all negative thoughts, beliefs, and emotions into positive ones. Let's understand the concept of how Theta Healing works, whether it is the right choice, and what happens during the session.
How Does Theta Healing Meditation Help?
The purpose of practicing Theta Healing is to bring an individual's mind into a deep state and then teach them how to ease their mental, emotional, and physical pain. People can create their reality and learn how everything happens in life for a reason.
Everyone has five fundamental frequencies in their brain: Gamma, Beta, Alpha, Theta, and Delta, where each works independently depending on the situation. Here, Theta is the dominant wave during meditation, hypnosis, or sleep. This frequency is scientifically proven to reduce stress and anxiety, improve mental clarity and creativity, lead to deep relaxation, minimize aches, and increase joy. In this technique, the brain enters this wave within minutes, and the individual works with the Creator based on their beliefs to improve their health.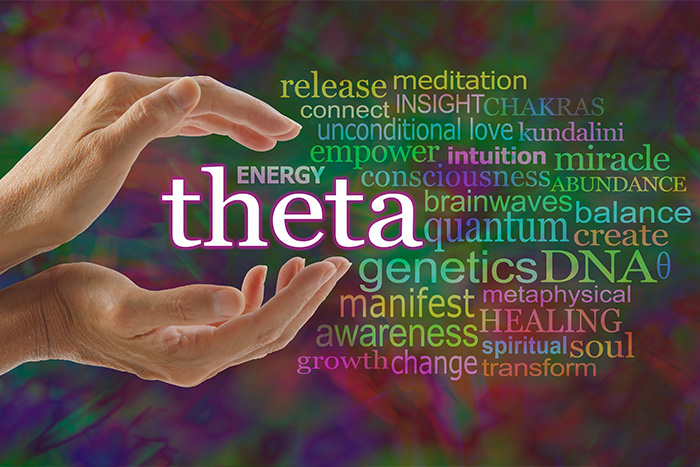 Is Theta Healing the Right Option?
This Theta Healing meditation works excellent for individuals who are likely to hold some suffering and seek healing opportunities, get relaxed and enlightened. Through this meditation, a person will be able to:
Get rid of addictions or habits
Reveal a better and more creative potential
Put an end to the phobias
Make a better spiritual connection
Be healthier in life
Cure any physical illness
Treats emotional trauma
It helps in making individuals feel confident about themselves
Manifest dreams and desires
Will grow harmonious relationships
If a person needs a change in their life, Theta Healing may work effectively for them and help cure illnesses and diseases. In short, this meditation gives a person the power to make their life work in a better way.
What Happens During the Session?
The session lasts for about half an hour to an hour, depending on the person's problems. Their practitioner uses a tool called digging to define the critical beliefs that promote physical and emotional issues. This helps in removing the several layers of belief to get to the bottom.
As a result, it is believed that when this bottom belief is transferred, the remaining beliefs come after the change, and the person becomes free of limitations and doesn't go through previous traumas.
Another way of determining specific beliefs is through muscle testing, which occurs with a person's consent, where they can say "yes" and then proceed and get ready for the new reality. These sessions are done in a safe environment where the individuals and their practitioners can discuss all aspects of their lives that they would like to change or improve through Theta Healing.
Theta Healing is a highly successful practice that has made many people look for Theta Healing courses in Delhi. If a person wants to learn or practice this meditation technique from industry experts, they can visit Cosmicx Healing Art, which offers quality services.