BASIC DNA COURSE
Prerequisites : A willingness to learn and change your life.
Includes : Basic DNA practitioner certification, Vianna's Basic DNA book and manual.
Duration : 3 Days.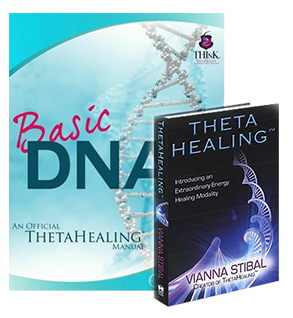 Basic DNA is the first & foremost course to learn Theta healing. This course tells you what is Theta healing, how Theta healing was founded & by whom. What are planes of existence & how to connect there. This course also introduces to energy healing modality. Theta healing is an energy healing modality which deals with various meditations & practices to understand the spiritual nature of healing. The core of this class is the practice of techniques that allow you to change life patterns/ beliefs held in place by core, genetic, historic and soul level, either self inflicted or externally imposed. The student will learn to identify his/her own beliefs as well as to practice pulling them for others in the class. Lot of partner practice session happen during the class to gain mastery in belief work. This practice can quickly reveal systems of belief that might take traditional psychotherapy years to unfold, showing the students how to replace limiting beliefs or feelings with positive ones, how to work on the fear. This course explains opening up various psychic centers, removing fear, understanding hooks, attacks & removing them, gene replacement, removing oaths, vows, curses, DNA activation, energetic divorce & much more. Its when you experience it , then only you can know the whole vastness of this course.
​Other topics and exercises include learning discernment when working with guides and guardian angels, connecting with higher self, an introduction to the laws of manifestation, doing future readings, balancing serotonin and noradrenaline levels, pulling heavy metals and radiation, soul mates, way wards and implants, Seven Planes of Existence, and the protocols for healing a great variety of conditions and diseases working with the Creator. By the end of the course, the student becomes a practitioner of ThetaHealing™ as a Theta Healer.