Our fast-paced modern world has led to stress and poor sleep quality becoming universal challenges. These issues not only hamper daily productivity and performance but also take a toll on long-term health. Even so, when life can be noisy and stressful, an effective remedy to it is sound healing therapy.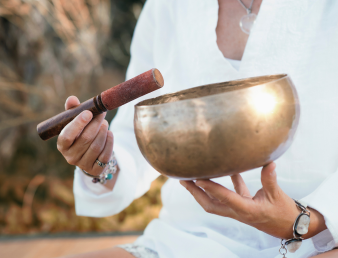 Innovative wellness center, Cosmicx Healing Art, Delhi, offers an alternative approach to finding serenity and better sleep through the practice of sound healing. It is designed to rejuvenate your body from the inside out through the use of harmonic frequencies that resonate on a deeper soul level.
What Is Sound Healing?
Sound healing involves listening to calming tones, chants or music to induce deep relaxation. The sounds shift brain waves from busy, active rhythms to slower, deeper ones. This creates changes in consciousness from normal waking state to meditative, tranquil states. The sounds come from instruments like Himalayan singing bowls, Tibetan gongs, chimes and voice. The vibrations and frequencies interact with your body's energy centers to encourage healing and harmony. Each session is tailored to your energy needs using different tones or music. Listening regularly balances your nervous system, reduces anxiety and sharpens focus.
How Does Sound Healing Improve Sleep?
Sound healing promotes better sleep in many ways. The calming sounds reduce stress and anxious thoughts that keep you awake. Slow, steady music brings your heart rate down and relaxes your body, preparing you for sleep. Soothing frequencies shift your brain into dreamier theta and delta waves so you fall asleep more easily. Listening helps keep you focused in the present moment rather than worrying about the past or future. Falling asleep to relaxing tones trains your brain for healthier sleep habits. It allows you to fall asleep quickly, deeply and wake up feeling recharged.
How Does Sound Healing Reduce Stress?
Sound healing is deeply calming and lowers stress in many ways. The soothing tones cause your brain to produce more calming neurotransmitters like dopamine. Your heart rate and breathing slow down as you relax. Listening to steady, resonant sounds from singing bowls or gongs promotes mental stillness like meditation. This quiets a busy, anxious mind. The vibrations also release physical tension from chronic stress. Regular sessions keep your nervous system balanced rather than in a tense, fight-or-flight mode. With repeated listening, you learn to return to a peaceful state when feeling overwhelmed. The holistic therapy brings your entire mind-body system into harmony and equanimity.
Why Cosmicx Healing Art?
Cosmicx Healing Art, is a unique center for sound healing in Delhi that offers a variety of benefits to its clients. First, our therapists are highly experienced and skilled in a variety of sound healing modalities. Second, we offer customized sessions to meet the individual needs of each client. Third, we create a safe and supportive environment for their clients to heal and grow.
It is a gentle and effective way to reduce stress, improve sleep, and promote overall healing. If you are looking for a way to improve your well-being, consider trying sound healing therapy.
To book a session, visit our website or call us at 9818995594.